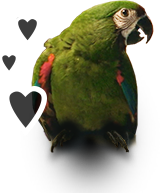 You'll
LOVE, LOVE, LOVE

choosing from 3 Valentine's Day bonuses!

Special casino and poker deals are waiting for you.

Offers are available until March 4th,2018.
Offers are valid until March 4th, 2018, 23:59 EST.
Each promo code can be used twice per day, up to 20 times during the promotion period.
For first time depositors, this promotion is instead of the Welcome Bonus.
Promotion day will be considered as starts at 19:00 EST and ends at 18:59 EST.
Terms & Conditions